Gallery IV
Still Going Strong (1987-90)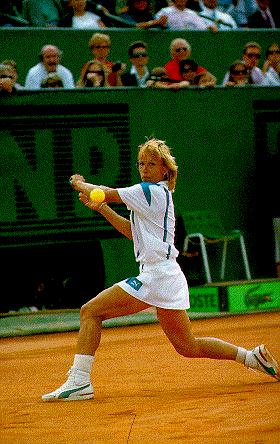 French Open 1987: Martina served for the championship, yet could not
pull it through, as she let victory slip away to Steffi Graf 6-4 4-6 8-6.
Photo, courtesy of "We Have Come a Long Way: The Story of Womens
Tennis" by Billie Jean King and Cynthia Starr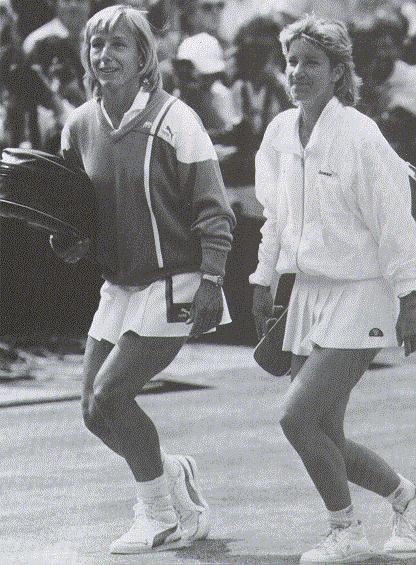 Wimbledon 1987: Courtseying to the Royal Box along with Chris Evert, before
their semifinal match. In one of the greatest matches ever, Martina won 6-2 5-7 6-4.
Photo, courtesy of "Open Tennis: 1968-1988" by Richard Evans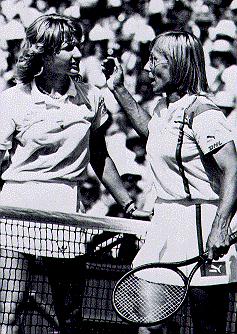 Wimbledon 1987: Accepting congratulations from the vanquished Graf,
after Martina won her record sixth straight singles crown 7-5 6-3. In winning her
eight crown overall, she equalled the 49 year old record set by Helen Wills.
Photo, courtesy of "We Have Come a Long Way: The Story of Womens Tennis"
by Billie Jean King and Cynthia Starr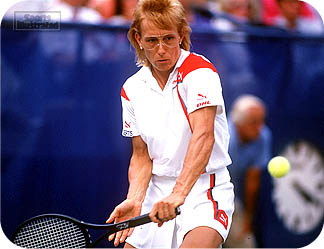 US Open 1987: In an awesome fortnight, Martina did not drop a set as she coasted
to her fourth US Open singles crown, 7-6 6-1 over Graf in the final. She
also won the womens doubles and the mixed for a clean sweep.
Photo, courtesy of "CNN and Sports Illustrated"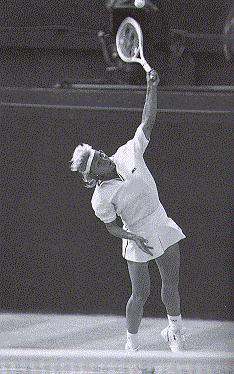 Wimbledon 1989: Martina's first Grand Slam
tournament since hiring Billie Jean King as her mentor.
Photo, courtesy of "The Handbook of Tennis" by Paul Douglas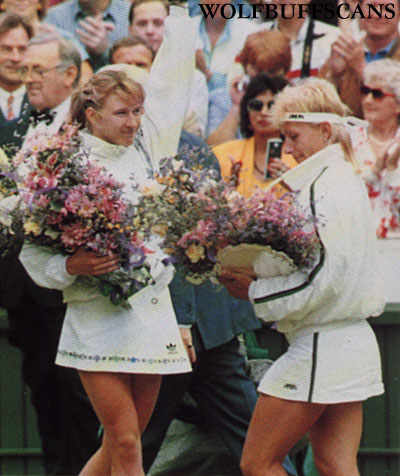 Wimbledon 1989: Leaving Centre Court, after falling in the finals
for the second straight year to Graf. Mentor King would tell her
later, "You have 365 more days to prepare for next year."
Photo, courtesy of "Wolf & Buffy's Steffi 2000 Page"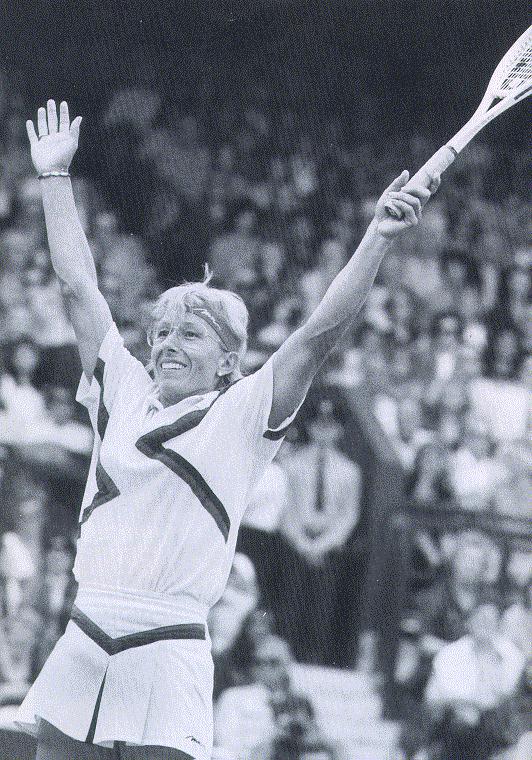 Wimbledon 1990: Nine's so fine! Martina wins her record-breaking ninth
Wimbledon title, sweeping Zina Garrison 6-4 6-1 in the title match.
Photo, courtesy of "Ladies of the Court: Grace and
Disgrace on the Womens Tennis Tour