A Short Biography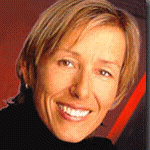 Full Name: Martina Navrátilová
(pronounced Nav-RAH-tee-low-VAH)

Birthdate: October 18, 1956

Birthplace: Prague, Czech Republic

Residence: Aspen, Colorado, USA

Parents: Miroslav "Mirek" Navrátil and
Jana Navrátilová

Siblings: 1 sister, Jana

Plays: Lefthanded; is ambidextrous

Height: 5' 8"

Favourite Music: K.d. lang, Neneh Cherry,
Arrested Development, Melissa Etheridge,
Elton John, Annie Lennox, Ella Fitzgerald

Favourite Actress: Katherine Hepburn

Favourite Food: Indian, Thai, Italian
and mother's cooking

Other Facts:

Works as an expert commentator for HBO during Wimbledon (since 1995)...Played on the Virginia Slims Legends Tour from 1995 to 1998... Playing World Team Tennis in 1999 for the Schenectady County Electrics...President of the WTA Tour Players Association in 1979-80, 1983-84 and 1994-95... Involved in the WTA Tour Player Development Program; mentor to Olga Barabanschikova...Is the spokesperson for the Rainbow Card Foundation... Has written 5 books - Tennis My Way, Martina, The Total Zone, Breaking Point and Killer Instinct...Supports numerous non-profit groups and charitable causes... Is a noted supporter for environment, children's and gay rights.



---